Naturally, when one loves and buys sneakers on the regular, one will amass a collection with strong emotional ties to some pairs. And then the question of all questions arises: What are your top 3 sneakers?!
The first one we asked this admittedly loaded question to is none other than Rotterdam-creative Jeff Solo!
 
Besides being known as one of Rotterdam most active and diversely talented musical artists, Jeff Solo has also been an avid follower of the latest and greatest footwear for over two decades. Long before the Indonesian-rooted, Rotterdam-local  made a name for himself as a DJ and event programmer, Jeff entered the creative scene as a breakdancer - and learnt about the appeal of rare/collectible sneakers, which he has been collecting ever since. Even today, the Operator co-founder likes to show up well dripped to events.
#3: Nike Air Trainer III B x Atmos "Viotech"
(Released in 2002)
I got this shoe at a surprise birthday party my friends threw for me. Back then, my friend Henno and I were really into shoes. This meant staying stay up all night to research the latest sneaker releases and discuss which ones we liked the most. We really used to spend our nights just talking about shoes. To be completely honest, I can't imagine myself doing that anymore now, but back then thats what we loved doing.
So when I discovered this shoe, it was like "what is this? This is crazy! Its so technical, and then theres that velcro strap and this strong purple colour upper." Up to that point, both Henno and me had never seen anything like that. But because it was pretty expensive on eBay at the time, there was no way for me to get my hands on the shoe. But then, Henno and some of my other close friends organized a surprise party for me. As soon as I stepped into the room, they threw the shoes at me. To me, its really incredible that all these people put effort into getting me these shoes and to organize an unforgettable night. Thats why this pair deserves its spot in my top #3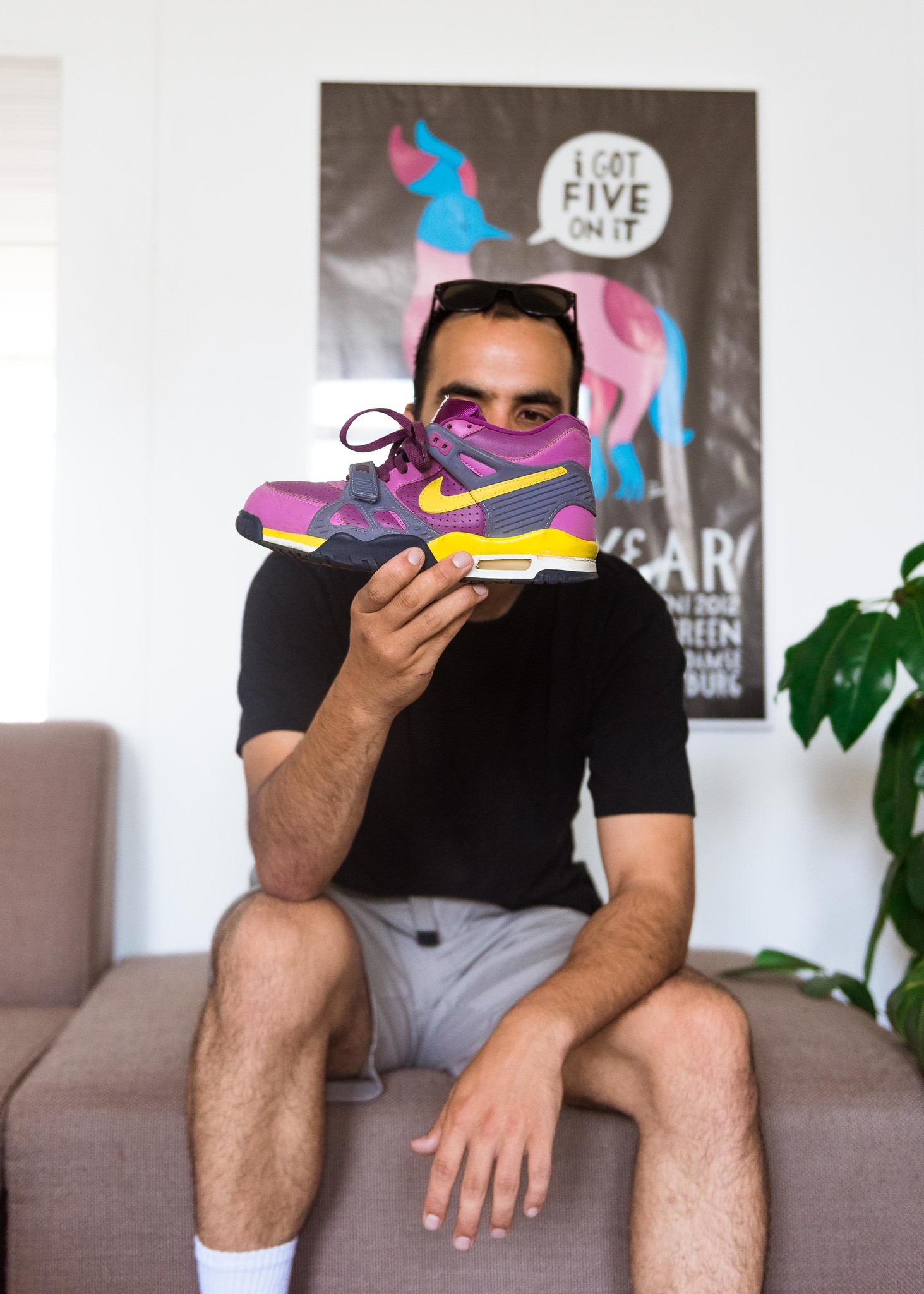 #2: Asics Gel-lyte III x Woei "Cervidae"
(Released in 2012)
The second sneaker collaboration I am fortunate enough to have worked on.
We used to have a pretty good connection with Asics, so when they approached us to do a collab it didnt take long to gather some people around us to bounce ideas.
For this sneaker, we drew inspiration from some Japanese brands like visvim for the stitching, the colors and material execution, for example. If I remember correctly, especially the stitching on the upper caused some problems in the beginning, since the stitching is usually not as accentuated on general release pairs. But after 2-3 sample runs it was exactly how we had envisioned it. We also wanted to include some hiking elements, so we starting thinking about the golden outdoor lace hole replacements. They don't only make the shoe look and feel more premium, but in practical terms, they also provide extra grip when tightening the laces.
Although it still is a running shoe, the details blend together aesthetically as a toned-down hiking shoe.
Looking back, this was a really rewarding project because we all got to bring in some of our own ideas that we molded all together into a really elegant and timeless sneaker.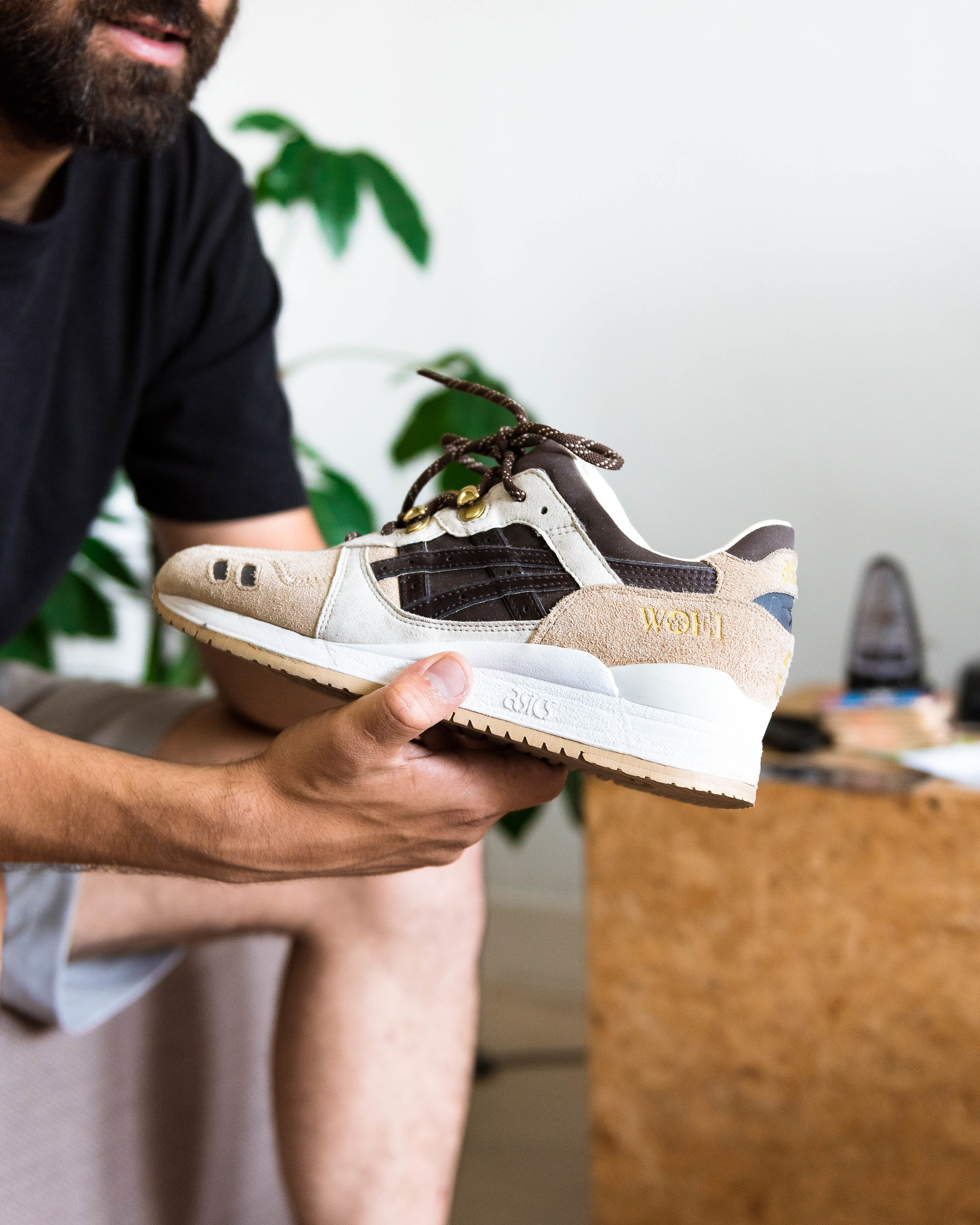 #1: New Balance 577GBP x Lijfstijl "Kakkerlak"
(Released in 2008)
This shoe man... back then Alain, one of the founders of Lijfstijl, used to be my breakdance instructor in the small town where I grew up. After I wasn't doing so well in school, he decided to take me in and eventually offered me a position at his newly opened sneaker and streetwear store. Although we were a very small team, we managed to pull this sneaker collaboration off after a visit to the New Balance factory in the UK.
We chose the 577 because we used to sell the 576 and 574 and were a little bit bored of seeing those two silhouettes. At the time we also really liked the 1500, and in a way, I feel like the 577 somewhat resembles that shoe but with a certain twist. The bigger N on the side is definitely a real eye catcher. Then there's the gum sole, which was a no-brainer for us since the very beginning. We had to opt for a suede upper because NB used to be and still is notorious for their buttery leathers.
In the end, I love rocking this pair and will always remember it as a super dope team effort that we all had an impact on while making it.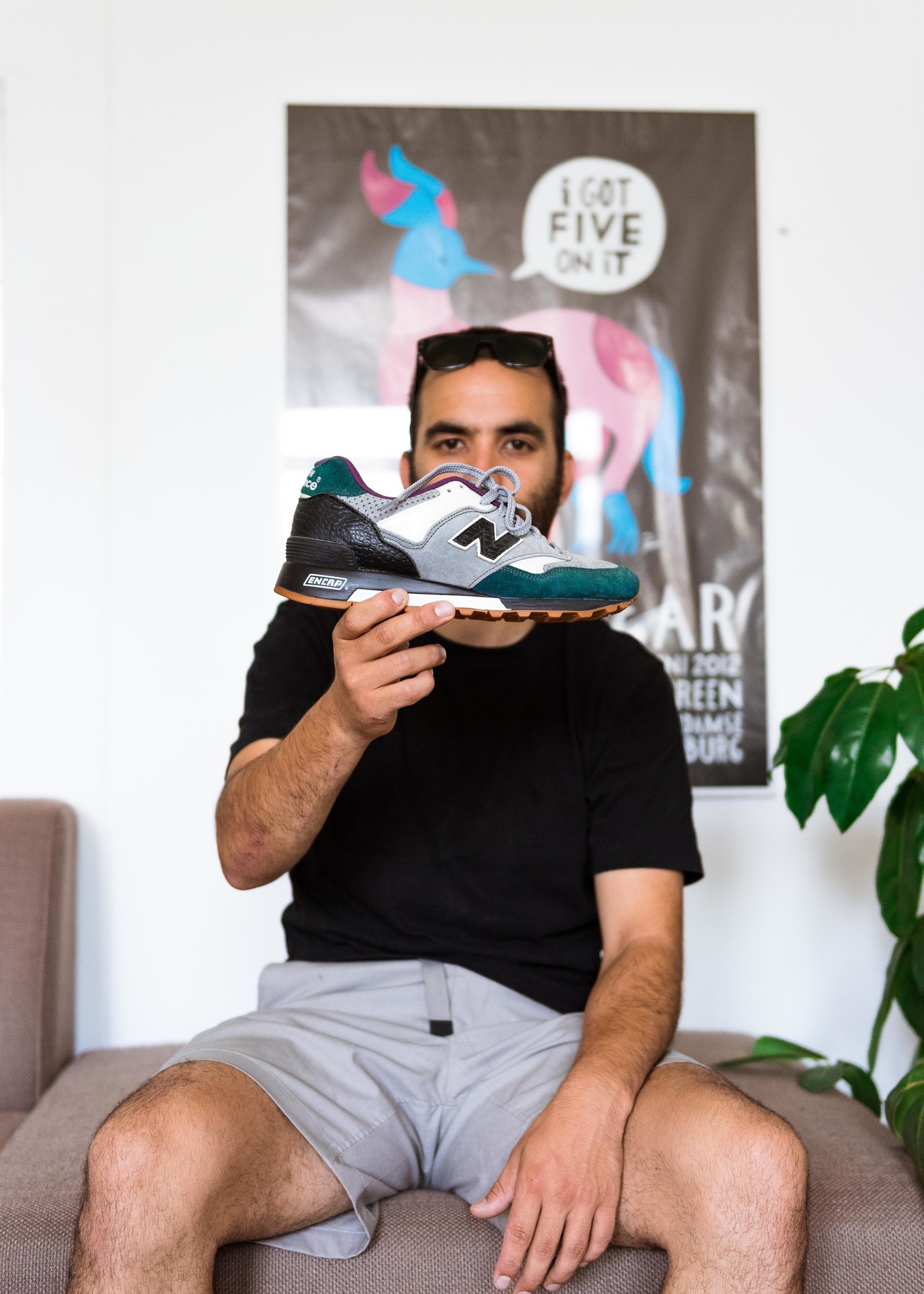 Honourable Mention: Converse Chuck Taylor Hi x Patta x Le Le "5th Anniversary"
(Released in 2009)
 I had to include this one because I wear a lot of Chucks, and especially the 70s is my all-time favorite model. I really like this pair because they are made by Patta and Le Le. I just happen to like quilted stuff. Back then I used to talk a lot to Henno about how this is such a nice material choice on a Sneaker. I think it started because of that Nike x Supreme Blazer that also had a quilted upper. Because I listened to Le Le and De Jeugd (Van Tegenwoordig) at the time, I had to get the shoes. I wish I also had the jacket though... :c