Back in 2015, Lizer van Hattem graduated from his Illustration studies at Willem de Kooning Academy in Rotterdam. Fast-forward 5 years to the here and now, and you'll see him running his own tattoo studio out of the low-key, up-and-coming western part of Rotterdam. We caught up with the man himself to retrace his steps to becoming his own boss and operating his own studio, enquired about what the future has in store and took a deep dive behind the inspiration for the Woei x Lizer van Hattem "Year of the Rat" Capsule Collection.
You finished your studies with a major in Illustration 5 years ago, but word on the street is that you graduated as a rapper? What's all that about?
Haha – you heard correctly! There were two main motivations behind my final graduation project, in which I starred as a rapper. First of all, my expectations about Art School were very different compared to the reality. I went into my studies expecting this open-minded, creative and encouraging environment that supports your artistic development. But I felt like the teachers actually held me back creatively with all their guidelines, constraints and made-up rules. So by the time my final graduation project was due, I was pretty fed up with school. When I eventually presented my idea of doing a rap project that included me being the rapper, writing a song and shooting the accompanying music video for my graduation project, all the professors immediately went crazy: "No, you can't do this. You picked the wrong study!" But their outrage only made me more determined to follow through with my plan. In all honestly, sticking with my idea while maintaining this "Fuck you, I do what I want" mentality simply felt really good.
Secondly, I really wanted to challenge myself to do something that was outside of my usual comfort-zone. When you are in your graduation year, you really feel like the adult life is rapidly approaching. And for that reason, I decided to look back to my childhood for inspiration. I remembered how I was really into Hip-Hop back then. I admired MCs like Snoop Dogg, Tupac and Eminem to name a few. As soon as I realised how much these legendary rappers and the genre in general still meant to me, I decided that I wanted to finish my illustration studies as a rapper. 
Contrary to popular belief, I am not musically gifted in any sort of way, which was kind of an obstacle considering that I was about to create my own song. But I was convinced that my drawing-skills would come in to save the day since the project was still quite graphics heavy. For instance, I could rely on my Illustration skills when I created this crazy alter-ego named "Yin Yung Murda", designed an album cover, a 3D figurine, merchandise, a self-directed music video, flags and even groupies!
So you graduated as a rapper from your Illustration studies yet here you are running your own tattoo-studio. How exactly did you get into the craft of tattoo-making?
I look at tattoos the same way I look at paintings, meaning that tattoos are nothing less than wearable paintings to me. I already had a strong interest in art and paintings as a kid when I was drawing stuff day in and day out. Later on, when I chose to do my studies in Illustration, it became clear to me that tattooing actually had a lot in common with painting in general. So when I had to look for internships during the third year of my studies, I decided to go for a tattoo shop. After some research, I had narrowed down my list to five tattoo shops. As part of my application package, I made this portfolio book with drawings based on traditional tattoos. Given the shy boy that I am, I didn't dare to step foot into these intimidating tattoo shops and instead mailed all five stores a hardcopy of my portfolio together with my CV and motivation letter. The response was great! Although only two shops invited me over for an interview, all shops that I had mailed my package to thought that it was a unique way of "selling" myself, because they hadn't seen it done before. In the end, I went with Stay Classy, which is located in Schiedam, near Rotterdam.
So this internship is where things really kicked off?
Exactly. I stayed there for around five years and learned everything from the very basics of tattooing to more sophisticated techniques. Since Stay Classy is a shop with a lot of young artists, the whole atmosphere was more progressive, which is actually rather uncommon in the tattoo-world. Compared to the old-school approach of doing the chores for a long time before you're even allowed to come near the needle, Stay Classy followed a more hands-on, learning-by-doing approach. They welcomed me with open arms, gave me a chance to learn more about this craftsmanship and provided me with a platform to improve every day.
How would you describe the learning curve of a tattoo-artist?
The beginning was rough… Whenever I was making stupid beginner mistakes, I used to be up at night feeling real bad about it in my bed; I was worrying about that wacky tattoo I did. The turning point came, when I realised that the more tattoos I did, the fewer mistakes I made. So I came to terms with making small mistakes, reflected on them and focused on improving so that the same mistake wouldn't occur twice. As I improved over time, I got to a point where I am now able to prevent small errors completely or fix them on the spot. To come back to the learning curve, I think there is a very steep one in tattooing. While the early days certainly weren't the easiest, learning how to deal with mistakes over the years really accelerated the learning process. In the end, you have to remember that you always have the option to either fix, stay silent, bend, adjust and/or admit a mistake to the client. How you deal with those moments is a real show of character.
You have been doing tattoos for more then five years now. How would you define your style and how do you keep evolving as an artist?
Everybody got their own signature. No matter whether you write wacky or neatly, your signature will always naturally end up in the lines that your hand draws. You can recognise it when you pay good attention it. As for my style… I think that I have a pretty neat handwriting…
When I started tattooing, I was really into Western traditional tattoos. This old imagery, like the motifs that sailors would get, can be traced back to the very beginnings of tattooing in the Western world.  Simultaneously, this is what I consider to be my foundation. But of course, with time passing, you broaden your horizon and learn about different styles. When I started to look beyond my favoured styles at the time, I got seriously inspired by the Japanese style of tattoos. As I did my research, I noticed how I was particularly inspired by their dedication and determination to become absolute masters of their craft. Their approach and ideology of mastering every aspect of their craftsmanship is something I admire and respect to this day.
One year ago, you opened the doors to your very own studio. What led you to making this decision?
After I had 5 amazing years at Stay Classy, I felt like I was missing out on the opportunity of creating my own work without the expectations of a client. With tattoos you are basically doing commissioned art, there is an agreement between the artist and the client and it is your duty to deliver on that deal. While I do enjoy the challenge that comes with that, I wanted and needed a space where I could also create art besides tattoos, where it doesn't matter what anyone else thinks about what I make.
Having wandered around your studio, it appears that you are sharing the building with other people. How come?
Usually, when you open up a tattoo studio, it is exclusively used for that purpose. I wanted to avoid that and instead chose to look for a space with two good friends of mine. This decision was rooted in the belief that I wanted to be surrounded by my friends and their creative energy. Since everyone here is creating art in their own discipline ranging from tattooing to interior design to painting and making sculptures, I feel inspired and encouraged to take more time to focus on creating work of my own.
Sounds like an ideal creative atmosphere for artists! Can you share with us what is in the pipeline for Studio Opzoomer? What can we expect from you guys in the future?
I really believe that having artists from different disciplines in the same space helps massively in inspiring each other and pushing each other to get the best out of every one of us. Now that we have established this small collective of people working here, we want to create an environment where we truly feel at home and can combine our skills. Someplace where you enjoy spending your time and have fun with what you do. Maybe we'll open up the door for more people to join us and give birth to even greater creative output.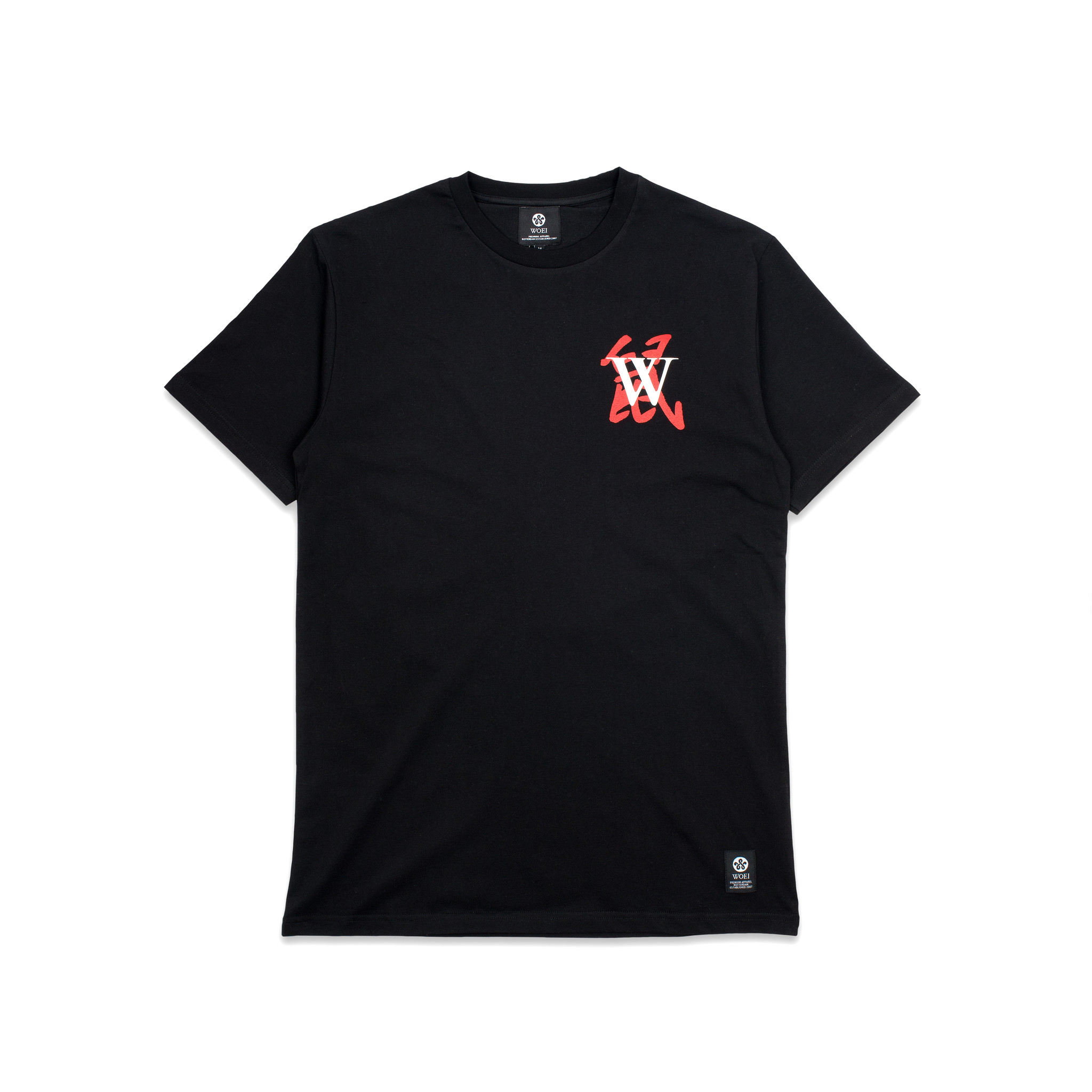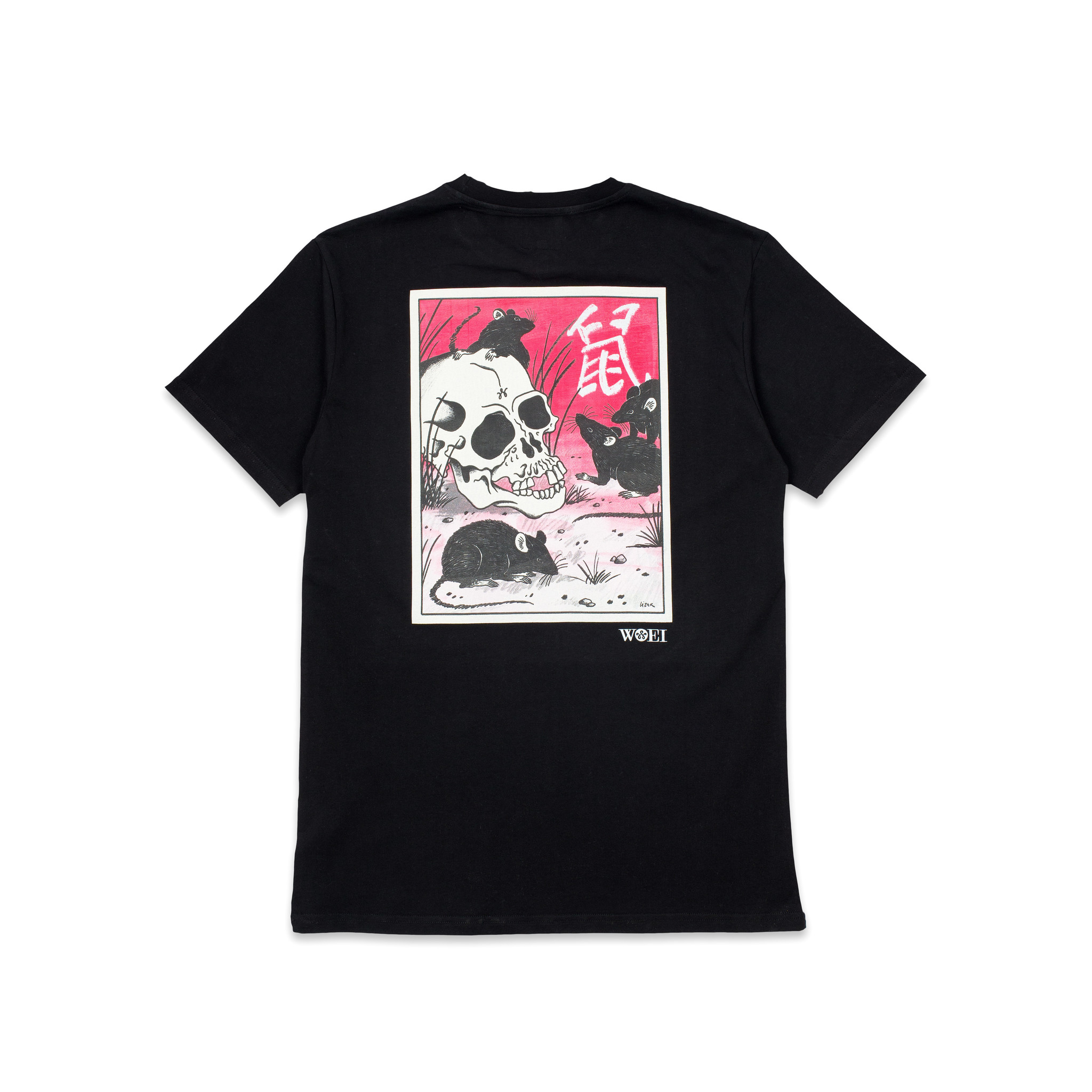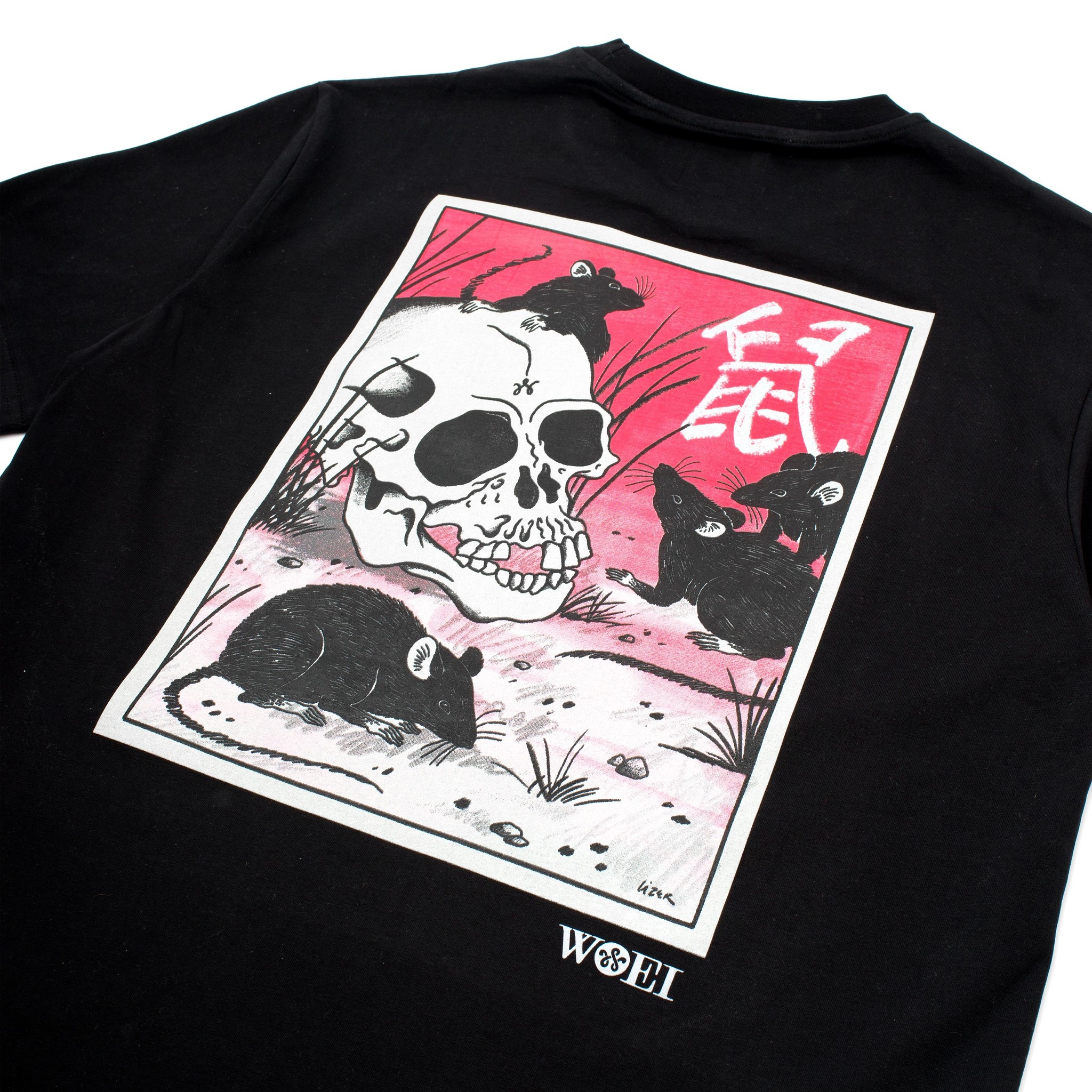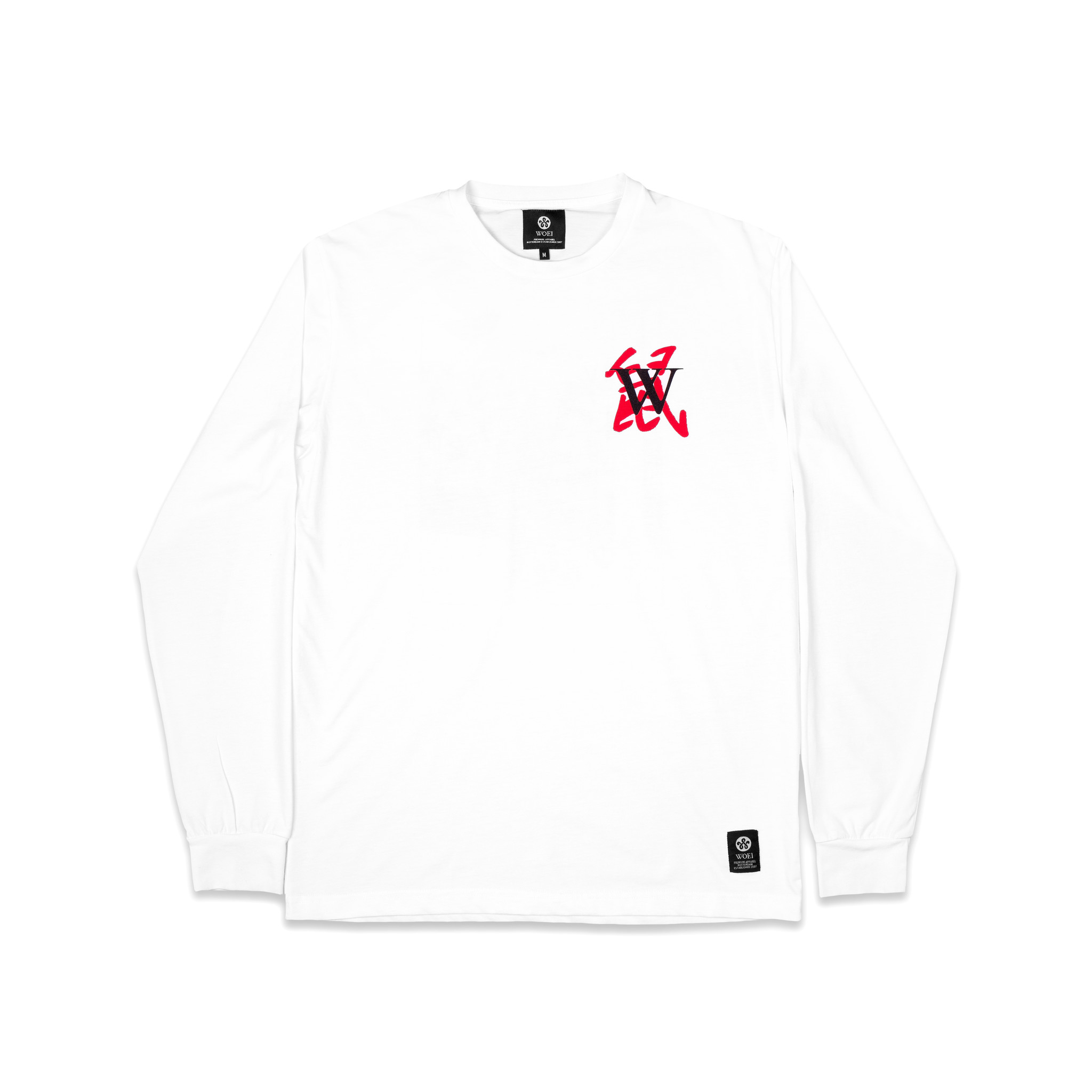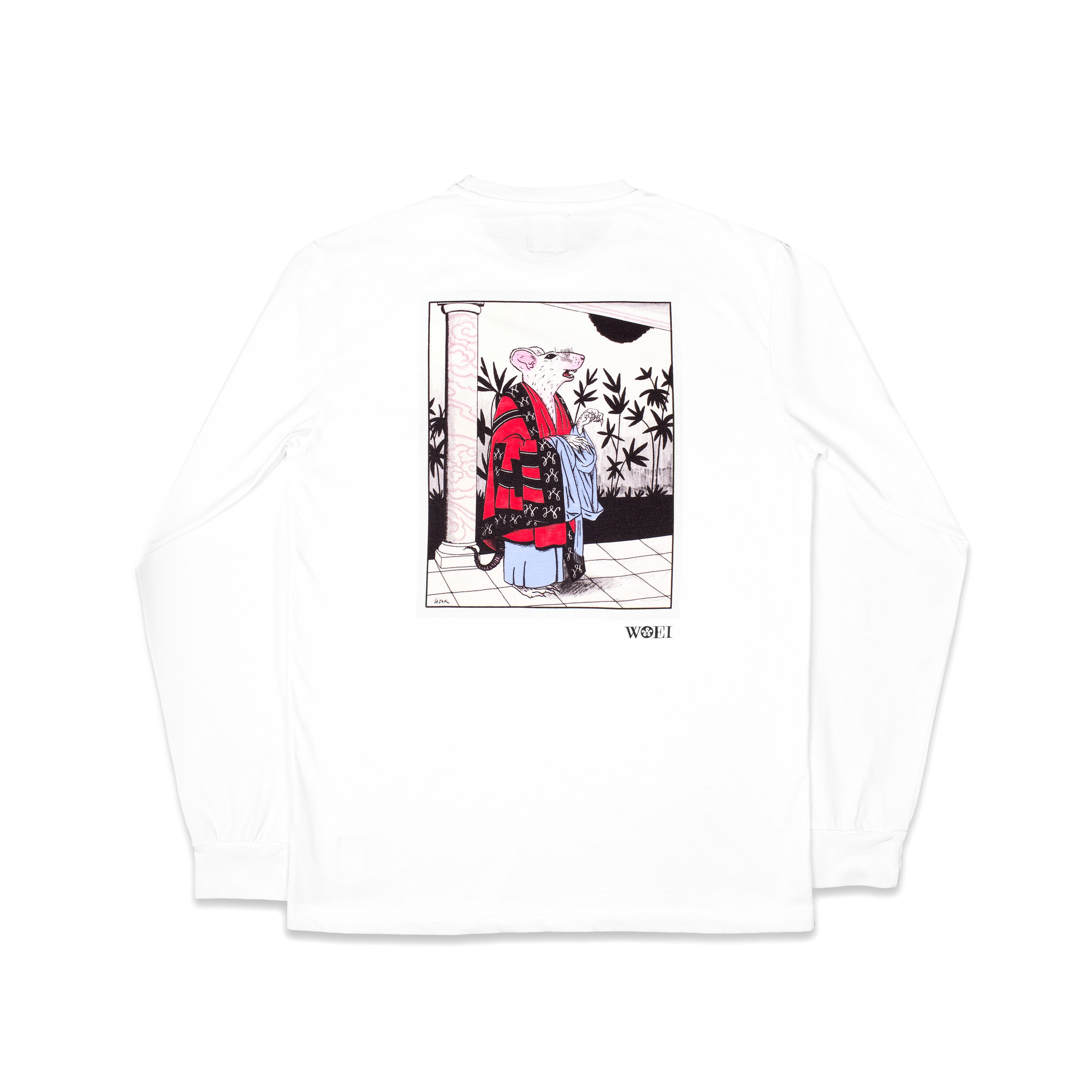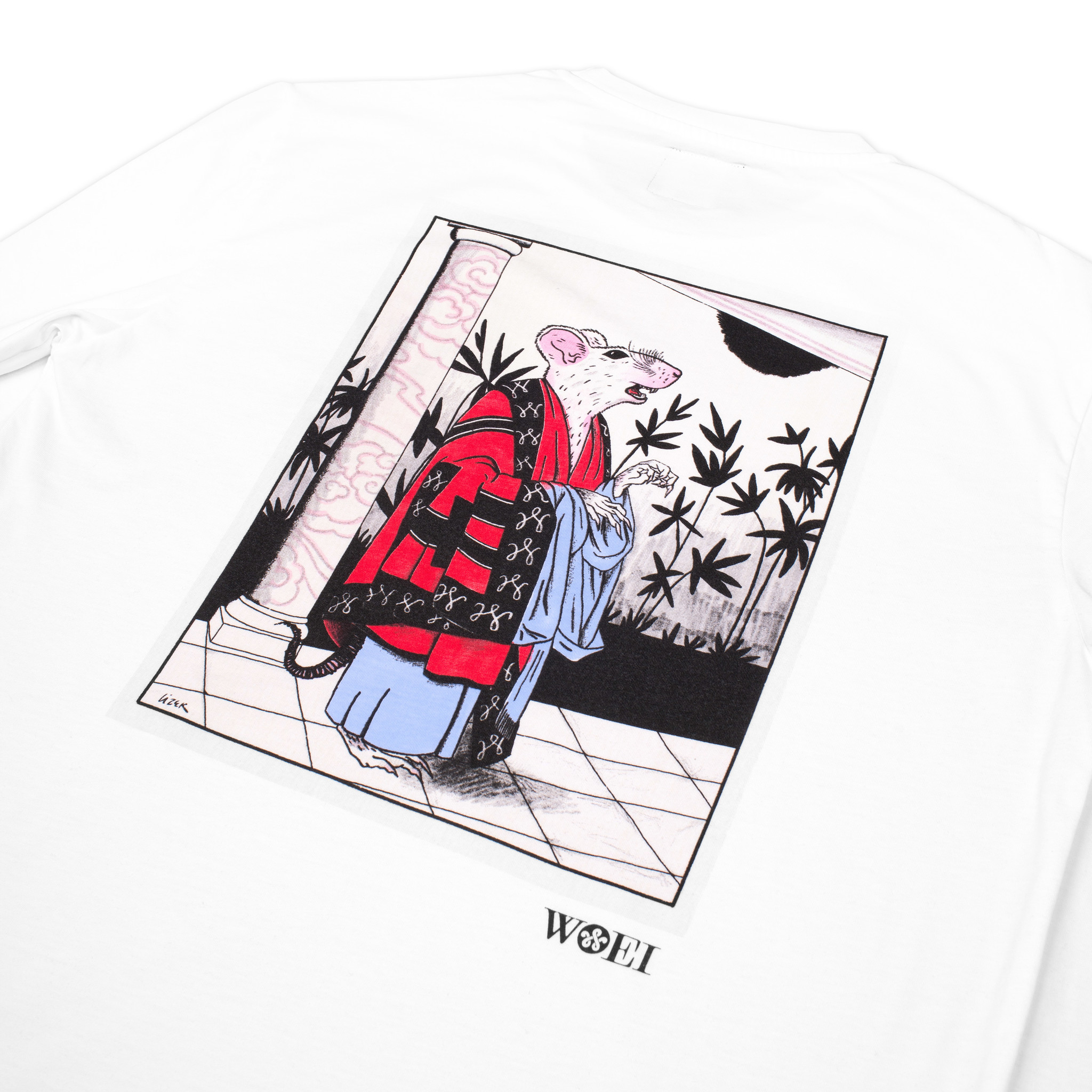 Woei reached out to you to work on this capsule collection based on the Year of the Rat. Can you explain the idea behind the designs and how you approached this project?
I really liked the theme as soon as you guys told me about it, because I knew that there are several different opinions and believes around this creature. The western civilisation seems to share the understanding that rats are dirty, little bastards. They don't really have a good reputation. When you go to the Far East, on the other hand, they consider the role of rats within the animal kingdom in a completely different, much more sophisticated way. As for the Zodiacal Rat, it is seen as an animal that will thrive and survive. They adapt to the good or bad conditions they live in and make the most out of it -  a true survival specialist.
This opposing ideology about the rat was something I wanted to play with.
For my first design, I created this rat priest, which is a wise and serene character. And although you guys [the Woei staff] loved it, I wasn't really satisfied. That was the moment the skull-print was born. The general idea behind that design was to demonstrate the strength of rats as they are outliving humanity in bit of a dark, aggressive and horror-ish setting. Maybe, this is where my personal taste shows, since this kind of darker setting with skulls and whatnot is more my vibe... (laughs)
The capsule collection is now available here!